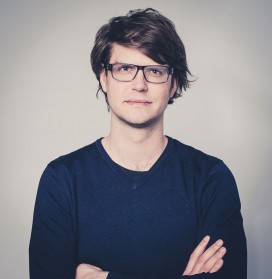 Prof. Andreas Muxel (AT/DE)
In his work Andreas Muxel is always looking for a poetical and engaging way of interaction with things, regardless of whether they are hardware or software. He creates artifacts and spaces for all senses blurring the boundaries between the analog and the digital, the physical and the non-physical. Andreas Muxel has been working in the fields of design, art and technology for over a decade establishing new possibilities through the tools he make.
His projects have been shown internationally (i.a. Ars Electronica Festival Linz, FILE Festival São Paulo, TodaysArt Festival Brussels) and awarded (i.a. Honorary Mention Prix Ars Electronica, VIDA Award, Share Prize). In 2015 he co-founded NEOANALOG, studio for hybrid things and spaces. From 2013 to 2017 he was Professor for Interface / Interaction Design at the Köln International School of Design, University of Applied Sciences Cologne. Since 2017 he is Professor for Physical Human-Machine Interfaces at the Faculty of Design at University of Applied Sciences Augsburg where he founded and directs the Hybrid Things Lab.
Contact
Andreas Muxel
Merkensstrasse 4
D-50825 Cologne
Germany
info AT andreasmuxel DOT com
Exhibitions
2016
Aufstiege, Schwäbisch Hall
Kunsthaus Rhenania, Cologne
2015
digital_ia, Szczecin
Lichtnacht#3, LWL Museum, Münster
THE FUTURE OF LIGHT ART,  Unna
2014
Analog Mensch Digital, Berlin
2013
GLOW Festival, Eindhoven
2012
FACES, Galerie Frei, Cologne
2011
Mediaan, Heerlen
TodaysArt Festival, Brussels
DA, International DIGITAL ART Festival, Sofia
SOUNDSNOISE Festival, Dornbirn
LEAP, Gallery Weekend, Berlin
2010
amber festival, Istanbul
new talents biennale, Cologne
LUMINALE X (support hive team), Frankfurt
Lexus Hybrid Art, Moscow
ARCO 2010 - International Contemporary Art Fair, Madrid
Revolving Realities, Cologne
2009
SWITCH ON, Gräfelfing
Piksel Festival, Bergen
Share Festival, Turin
Transitio MX, Mexico City
Cyberarts 09 - ARS Electronica, Linz
FILE Festival, Sao Paulo
Contemporary Art Ruhr, Essen
2008
Augsburger Kunstlabor lab30, Augsburg
Museum für Angewandte Kunst, Cologne
Hybridspace goes Tschumi, Groningen
Altitude 08, Academy of Media Arts, Cologne
Venez vivre une journée en 2017, Paris
2007
Altitude 07, Academy of Media Arts, Cologne
Yahoo! Design Expo, Sunnyvale
Talking Cities Radio Audio Lounge, Hamburg SAM, Architektur Museum, Basel
2006
ENTRY 2006, Zeche Zollverein, Essen
Altitude 06, Academy of Media Arts, Cologne
Expedition Informatik, Haus der Wissenschaft, Bremen
Kunst Computer Werke, ZKM, Karlsruhe
2005
walk in 05, Galerie-Aedes, Berlin
AustriArchitektur, v-a-i, Dornbirn
AustriArchitektur, Zumtobel Staff Lichtforum, Vienna
Cubo de Luz Festival, Granada
2004
Energie_Passagen, Munich
Awards
2015
Winner  INTERNATIONAL LIGHT ART AWARD together with Martin Hesselmeier, Unna.
2011
Honorary Mention Action Sharing, Turin.
2010
Designpreis Rheinland-Pfalz (support hive team)
Nominated FILE PRIX LUX, Sao Paulo
Second Prize VIDA 12.0 Award, Madrid
2009
Winner Share Price, Share Festival, Turin
Honorary Mention, Category "Interactive Art",
Prix Ars Electronica, Linz
2008
Winner Kölner Design Preis
2007
Best Experience Design Award, Yahoo! Design Expo together with Charlotte Krauss and Ludwig Zeller
2005
if communcation design award as a team member of the MARS-Exploratory Media Lab
Architecture Award poolbar 05, poolbar Festival as a group member of bricolage
Talks
2016
"Make and Think", INSIGHT.INTERACTION.DESIGN., Bremen
"(R)evolution of Things", .process, Dortmund
2015
"the weight of light", Lichtforum NRW, Unna
"Hybrid Things", World Usability Day, Frankfurt
"Der Aufstand der Dinge", Symposium "Beseelte Dinge", Hochschule Niederrhein
2014
"Funktion & Interaktion", Innovationsworkshop Siedle, Furtwangen
"The proof is in the pudding", Creative Mornings, Köln
"New Ecology of Things", Hochschule Rhein-Waal
2013
»Permanent Beta«, Bergische Universität Wuppertal
"Code und Klang", FH Düsseldorf
"Vom Experiment bis zur Idee" at kreatifrühstück, Denkwerk, Cologne. "Think and Make" at design.digital 3, Würzburg.
2012
"Transformations - from input to output and between" at the Cologne Game Lab, Cologne
2011
"From Zero to Hero" at ifs internationale filmschule köln, Cologne
2010
"Digital ist besser?", ifs internationale filmschule köln, Cologne "Lets get Physical", Köln International School of Design, Cologne "From the Experiment to the Idea to the Experiment", Lexus Hybrid Art, Moscow "Making Things", Köln International School of Design, Cologne
2009
"Connect", SHARE TECH Conference, Turin "Unheard Noise", FILE Symposium, Sao Paulo
2008
"Analog Programs", Linux Audio Conference, Cologne
2007
"CubeBrowser", Yahoo! Design Expo, Sunnyvale "Physical Computing", Uniplan, Cologne